The name "Mashatu" originated from the local people describing the area's Nyala berry trees and the danger of big snakes lurking in them. On the recent C4 Images and Safaris photographic workshop at Mashatu, I was wondering if this name didn't have to do with leopards instead. The sightings we had of leopards were plentiful, exquisite and a privilege to see so much of their behaviour -something that I will remember this trip by...
Mashatu Game Reserve, Botswana
Canon 1D Mark III | 70-200mmf/2.8 | 1/25 sec at f/18, ISO 100
The group of photographers on our trip was very keen on exploring all genres of nature photography. It was a joy to work with them and we fed off each other's energy doing everything from standard wildlife portraits, wide angle portraits, slow shutter speed motion blur, zoom blur, landscapes, backlit, flash photography, star photography and star trails. Of course it makes life very easy when a reserve like Mashatu offer these opportunities in bucket loads and we have a guide like Daniel who is just as keen about us "getting the shots". The highlight of our trip was an incident between a leopard and baboons and although it was a great photographic opportunity it was probably a "once in a lifetime" natural history moment that we will never forget. Read more about this in the breakdown of our game drives below.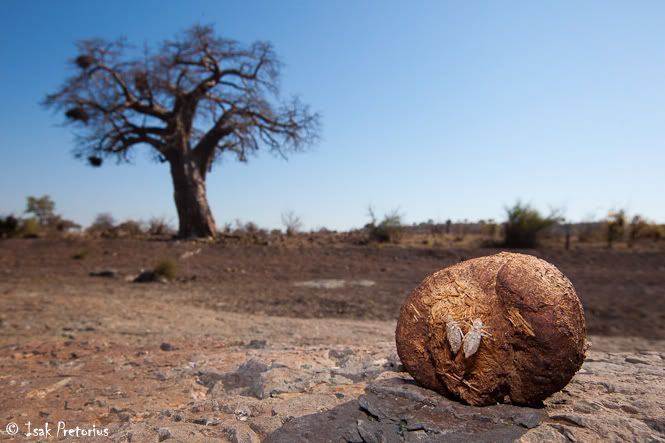 Mashatu Game Reserve, Botswana
Canon 5D Mark II | 16-35mmf/2.8 | 1/125 sec at f/16, ISO 100
Game drive 1, Saturday afternoon: A bit of drizzle could not dampen our enthusiasm and at 3:30pm we were off on our first game drive. Not far into the drive we stumbled upon a familiar face. It was the young male leopard we had seen earlier in the year, famous for the incident where he had been inquisitive about a porcupine. He is probably the most beautiful leopard I've seen – perfect skin, and getting quite muscular now, with loads of character. He did not disappoint! We found him on the bank of the Nyaswe River grooming himself and getting into the most interesting positions physically – something the most flexible athlete could not do. After the grooming session he walked around looking for impala and climed into a couple of trees to gain vantage point. This turned out to be a mistake as he had wondered into another big male leopard's territory who spotted the intruder in one of the trees. The young male got chased away by the other bigger male and soon both of them disappeared over a hill. Not far from that we came across a female leopard with a freshly caught impala which was to big to get into a tree. She was sitting under a lead wood tree trying to eat some of the impala to reduce the weight to drag it into the tree. A few attempts to get the impala into the tree failed and then she lost the kill to the big male leopard that also tried to get it into the tree but failed. He then dragged the kill to a nearby bush and that was the end of an exciting first game drive.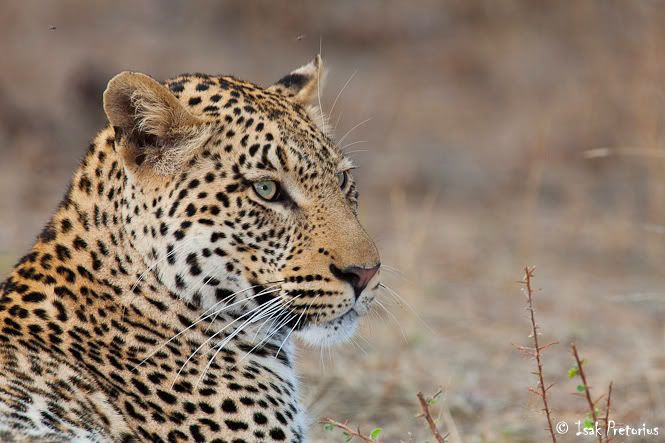 Mashatu Game Reserve, Botswana
Canon 5D Mark II | 600mmf/4 | 1/250 sec at f/7.1, ISO 1000
Game drive 2, Sunday morning: We woke up with the sound of raindrops falling on dry leaves, but luckily photographers is a different species altogether and with raincoats on we left camp excited about the opportunities that rainy weather brings. We found some rain soaked impalas standing under a tree and made the most of ground hornbills and painted snipes in a dry riverbed before there was a break in the clouds. Our gamble with the weather paid off when we found the young male leopard in a Mashatu tree trying to stay dry. This ended off our game drive on a high note.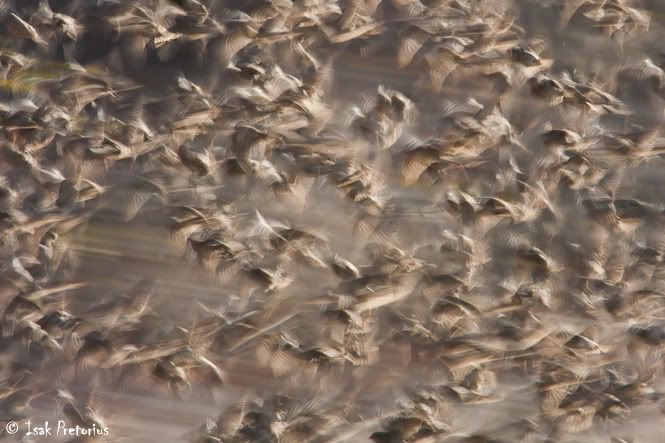 Mashatu Game Reserve, Botswana
Canon 1D Mark III | 600mmf/4 + 1.4tc | 1/20 sec at f/45, ISO 400
Game drive 3, Sunday afternoon: After the first of our afternoon workshops on digital workflow and Lightroom, and a piece of Magret's famous lemon meringue pie, our afternoon drive commenced. Spring has sprung at Mashatu and the creative juices got flowing when we photographed newly sprouted mopane leaves backlit against the sun and the shadow of a hill. Other highlights of the game drive included following a large flock of redbilled queleas and a klipspringer. We were photographing the klipspringer in beautiful soft light when he started staring intensely in one direction and making alarm calls. Our guide, Daniel, had not finished his sentence telling us that this is typical behaviour when a klipspringer sees a predator, when down the hill came a leopard walking straight towards us and climbing into the tree next to us. The game drive finished with drinks at a sloping hill with a beautiful baobab tree where we did a star trail.
Mashatu Game Reserve, Botswana
Canon 5D Mark II | 600mmf/4 + 1.4tc | 1/3200 sec at f/6.3, ISO 400
Game drive 4, Monday morning: At camp there was talk about a pride of lions in the Southern part of the reserve and that became our objective for the game drive. After photographing some of the usual stuff on our way there, we found the lions doing what they do best… lying around! A few portrait shots later we were off and stumbled upon a breeding herd of elephants. The elephants at Mashatu are the most tranquil elephants you'll find anywhere. We positioned ourselves a hundred meters or so away from, but right in the way of the moving herd. The elephants walked past us, only meters from the vehicle. This is photography bliss! We found several herds moving in an easterly direction and after getting all the standard shots it gave us the opportunity to try several different kind of shots as well… low angle wide shots, motion blur and zoom blur.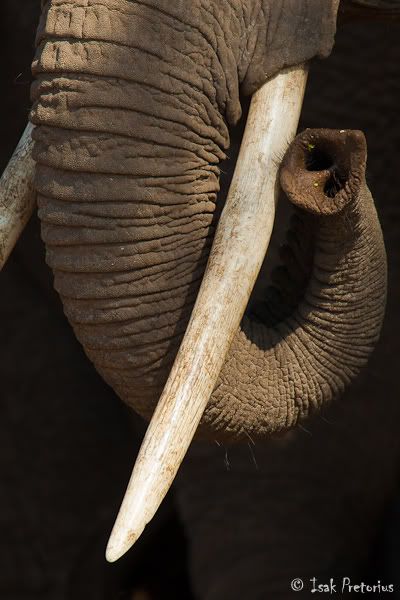 Mashatu Game Reserve, Botswana
Canon 5D Mark II | 600mmf/4 + 1.4tc | 1/1000 sec at f/8, ISO 500
Mashatu Game Reserve, Botswana
Canon 5D Mark II | 600mmf/4 | 1/500 sec at f/5.6, ISO 800
Game drive 5, Monday afternoon: The weather cleared and we were in for a sunny few days ahead. Not far from camp our first sighting was a leopard stalking impala. As if the leopard read a book on photography it provided us with perfect photographic moments, walking slowing towards us over big flat rocks with the sun perfectly over our shoulders, and golden light illuminating the eyes of the leopard. We could not ask for more. Unfortunately the impala caught sent of the leopard which spoiled the stalking attempt, so we moved on to landscape opportunities of big ana trees in a dry riverbed, and a colony of whitefronted bee-eaters. Our drive finished with star photography when we identified a beautiful shepherd's tree on an open plain. We had so much fun trying different angles and getting the exposure correct that Daniel had to radio in to camp that we were going to be and hour and a half late for dinner.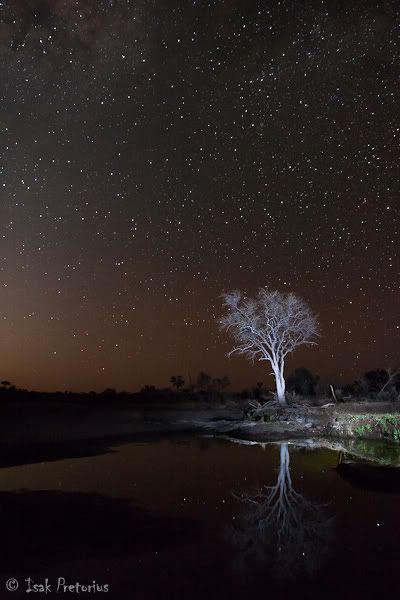 Mashatu Game Reserve, Botswana
Canon 1D Mark III | 16-35mmf/2.8 | 25 sec at f/2.8, ISO 3200
Game drive 6, Tuesday morning: After all the excitement of the previous evening we were all keen on taking it slow this morning. The euphorbia's on top of the white cliffs in the Mujali river provided good opportunity to do early morning landscapes. Not far from that we stopped at a big pool in the riverbed where we spent the rest of the morning watching impala, baboon, and kudu coming to drink. The birdlife was also impressive with a black stork and pied kingfisher fishing in the pool and green pigeons coming down for a drink.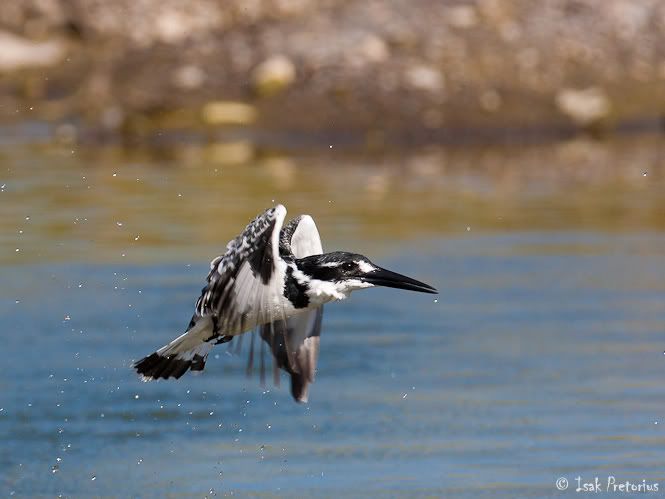 Mashatu Game Reserve, Botswana
Canon 1D Mark III | 600mmf/4 | 1/2000 sec at f/8, ISO 500
Game drive 7, Tuesday afternoon: I asked the group if there were any of the photographic opportunities we had which they'd like to do again and the unanimous answer was to go back to the bee-eaters. We headed straight for the bee-eaters colony and on the way there we stopped for more landscapes of big trees in dry riverbeds. This became a popular theme on our trip because everyone loved the creative opportunities that it provided. As promised we ended up at the bee-eater colony again, after which we had sundowner drinks before heading back to camp. On our way back we identified a tree for a star trail and could managed a twenty-minute exposure before the moon started to rise over the horizon.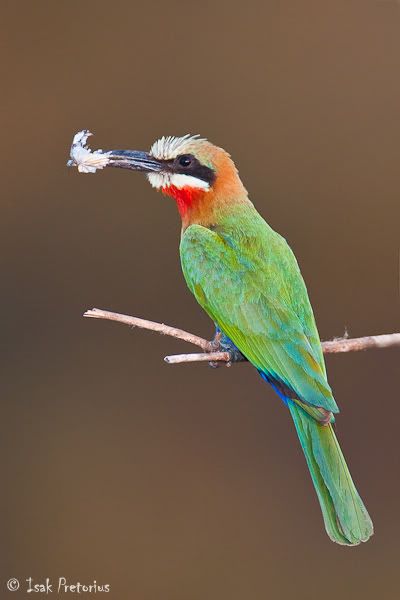 Mashatu Game Reserve, Botswana
Canon 1D Mark III | 600mmf/4 + 1.4tc | 1/125 sec at f/5.6, ISO 800
Game drive 8, Wednesday morning: Trying to make the most of our last game drive we were desperate to find anything interesting to photograph. It was not long before we found a large herd of impala running, redbilled queleas, and two few-day-old crowned lapwing chicks and their parents. Soon after that we heard on the radio about some baboons harassing a leopard and we headed straight for it. On top of a hill we found our favourite leopard, the young male, lying in the shade of a bush being followed by about eight young male baboons. The baboons were all around him and very cautious in their attempts of mock-charging the leopard, probably just to drive him away far enough away from the rest of their troop. The young male baboons were quickly joined by more baboons, including a few big males with big teeth. The mock changes continued and although in the beginning the leopard did not look to care too much for them, he now started feeling more and more vulnerable and made a few charges at the baboons himself. The tension mounted and it was like a pressure cooker getting ready to explode. After another charge by one of the big male baboons the leopard made a run for it, and as soon as the leopard turned his back to the baboons and started running away, all hell broke loose. The whole lot of baboons ran after the leopard and was on his tale in a matter of seconds. Some of the baboons pulled the leopard's tail and in a cloud of dust the leopard retreated to lying on his back, claws in the air and ready to defend himself. The baboons were all around him, jumping over him and attacking. This all happened in a matter of seconds. Then, the leopard saw a gap, got up and ran as fast as he could away from the baboons. The baboons stopped, turned around and went back to their troop, happy that the leopard was far enough away from their young ones. As a natural history moment this was something spectacular which none of us will ever forget.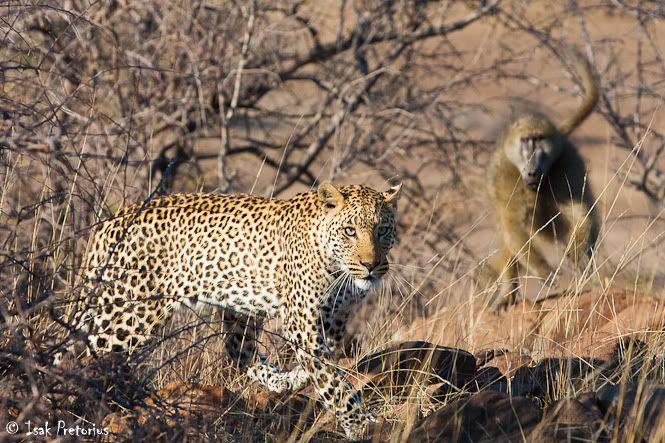 Mashatu Game Reserve, Botswana
Canon 1D Mark III | 70-200mmf/2.8 | 1/500 sec at f/5.6, ISO 200
After all this excitement we stopped for coffee at a baobab tree in a dry riverbed where we had a last chance to do some landscape photography. We headed back to camp for brunch before heading home.
Meeting as strangers and leaving as friends, the trip was a huge success where everyone learned a lot and got great shots. Mashatu delivered again and it's a pleasure to work in an area that provides such good and unique opportunities.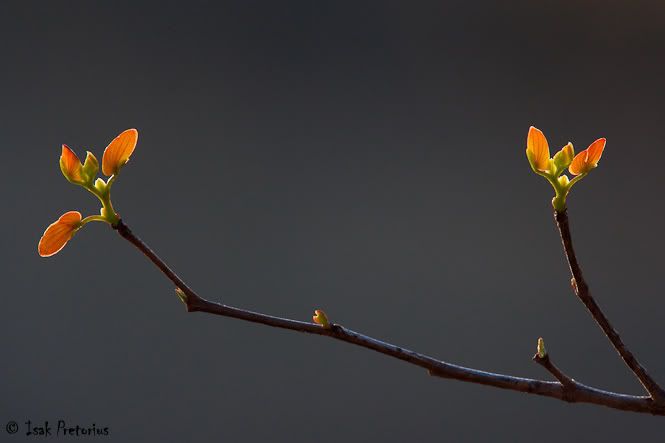 Mashatu Game Reserve, Botswana
Canon 1D Mark III | 600mmf/4 + 1.4tc | 1/320 sec at f/18, ISO 1000