I'm sure all bird photographers have found themselves in the situation before where they drive around in a wilderness of bushveld or grassland in the hope to find a decent avian subject to photograph but without success. We have all started like that, having high hopes to photograph a whole coffee table book of stunning bird photos in our first weekend to the Kruger National Park since taking up photography. Through experience you learn that it does not work like that. It would be easier to find a needle in a haystack than trying to find random birds to photograph without targeting specific species or habitats. If you are new to bird photography I would suggest you hone your skills on shorebirds first. They are typically larger birds, easy to find and there are lots of them!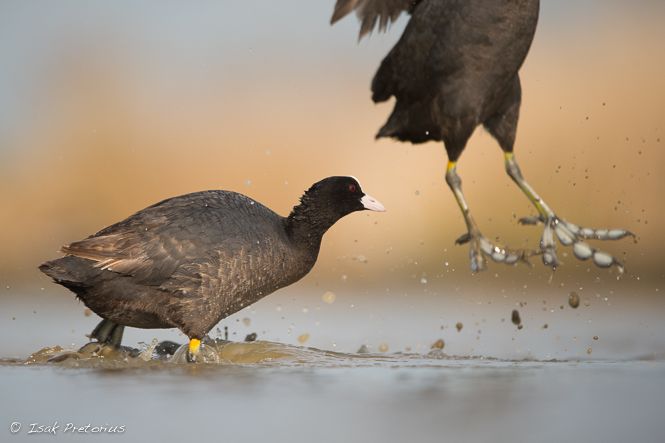 Marievale Bird Sanctuary, South Africa
Nikon D4 | Nikon 200-400mmf/4 | 1/1000 sec at f/4, ISO 400
Bird photography is the most popular genre of wildlife photography and it's not difficult to understand why. Birds are everywhere and for most wildlife photography enthusiasts who find it hard to be out in the "real" bush often enough bird photography is a welcome substitute. Birds are beautiful and interesting creatures that comes in all shapes and sizes. Their best feature is of course that they fly, and thus we enjoy the technical and creative challenges that photographing birds brings. It becomes a way for us to express our love for nature and showcase its beauty. Instead of just sitting and watching we enter into their world and we try to do their beauty justice with our images.
Our desire to capture new and exciting images of birds leads us up mountains, down valleys, to national parks, to private reserves, local reserves, bird hides and often our own innovative ideas. Each of these excursions are done with a specific goal in mind, whether it'd be to photograph the breeding colony of vultures at the top of the Magaliesberg mountains, or owls in the spot light of a private safari vehicle, or even just to have a nice Saturday morning in a bird hide at the local wetland ready to photograph anything that moves or hints at flying. In South Africa we find birds in a variety of habitats so it becomes important to focus on specific groups of birds in a specific habitat at a time when you plan to do bird photography.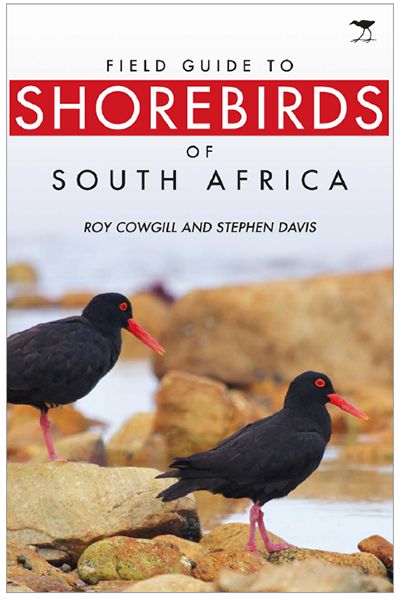 A particular classification of birds is called shorebirds and they make for a great first subject for any new bird photographer. There is an exciting new field guide available, "Field Guide to Shorebirds of South Africa by Cowgill and Davis" that will help you find and identify the more common shorebirds in South Africa. Roy Cowgill and Stephen Davis did an excellent job in providing you with all the tools necessary to find and identify these birds. With its guide to classification characteristics and behaviour, identification framework and visual clues it is a vital companion to anyone ready to go out in the field to photograph shorebirds. But which birds are shorebirds exactly? The Oxford dictionary defines shorebirds as those birds that frequents the shore. That would seem quite obvious but not very specific, so here is a list: The most common species under this classification would include storks, plovers, herons, jacanas, sandpipers, darters, flamingoes, cormorants, hamerkop, ibises, spoonbills and coots. Some of the lesser known species include snipes, flufftails, bitterns, wagtails, crakes, rails, avocets and stilts.
Shorebirds, like the name suggest, are confined to the narrow strips of shore that lines the dams, lakes, rivers, wetlands and oceans - that is where their food is. These thin strips of habitat that you find throughout South Africa is a relative small area where you can find a large concentration of birds. Shorebirds are mostly long and slender birds with large flat feet, thin long legs and elongated beaks designed to pick their food from water, mud or between rocks. Their diet consists of fish, crustaceans, insects and other small organisms found along a shore, in mud or shallow water. Their long thin legs are designed for them to wade through the shallow water in search of a meal. They become very focussed as they vigorously "work" an area they deem productive while they patrol the shore, up and down, in an attempt to capitalise on every opportunity for food. They are very predictable in this way which is important to take advantage of as a bird photographer.
Marievale Bird Sanctuary, South Africa
Canon 1D Mark II N | Canon 600mmf/4 + 1.4x | 1/2500 sec at f/6.3, ISO 800
One of the keys to photograph birds is to get close enough to them to have the subject large in the frame. A mere dot in a landscape where you struggle to figure out what the subject is, is not considered bird photography. Shorebirds are generally some of the larger bird species so you can still get fabulous results without having to crawl right up to them. Fixed hides or even mobile hides are the traditional place to photograph shorebirds from, but if the habitat allows I suggest getting down to the ground and sit or lie on the shore itself. As you walk to your spot along the shore the birds will fly off but just sit very still and wait a few minutes. The birds will all come back to where they were foraging before, right next to you, without taking too much notice of you and that's when you can take incredible photos.
For bird photography I recommend a long lens of at least 400mm, fast focussing camera with a high burst rate and a good support system. Everyone will tell you that you can never have a long enough lens for birds, but that's only partly true. Consider this: when you photograph from close to ground level you'll notice a lot of heat waves and optical noise in the air between you and your subject. Thus, you'll find that the image quality improves when you can get closer to your subject, rather than trying to photograph from miles away with the biggest bazooka you can find. Any digital camera body would suffice but the newer models do offer improved autofocus, tracking and image quality even in low light conditions. These will not only help you to better capture action sequences but it will also allow you to make great quality large prints. Last but not least you need good support for any long lens, for the stability to create sharp images. As a minimum you'll need a good beanbag, but alternatively you can invest in fancier systems like tripods with fluid or gimball heads.
Canon 1D Mark IV | Canon 600mmf/4 | 1/500 sec at f/4, ISO 400
The three most important things to consider when photographing birds are the background, light and angle. To create a striking image you need the bird to stand out from the background. This will immediately draw the viewer's attention to the subject. To create the soft blurred background you should use the smallest f-stop that the lens allows, like f/4 for example. This effect is also enhanced when the subject is further away from the background or when you photograph from a lower angle. Choose the colour of your background carefully. It is more striking to photograph the bird against a green or neutral background than against the blue sky.
Next to consider is the angle and quality of light. The beautiful palette of colours of any bird are best appreciated in soft light, when the sun is at a low angle, and with the sun directly behind the photographer. The soft light will reveal subtle detail in all the colour tones while the front lit light will illuminate every part of the bird visible in the photo. Don't let overcast conditions stop you from going out. Wide angle photos in overcast weather can create lots of mood and atmosphere and its the best type of light to take close-up photos that will reveal the textures of a bird.
Taking photos from the birds' level will create more dramatic images. It creates the feeling that you're part of the bird's world rather than being an outsider who just snapped a photo of a ground bird from the top of a vehicle. In bird hides you are unfortunately restricted, but when the opportunity allows you should try to get as low to the ground as possible when photographing shore birds.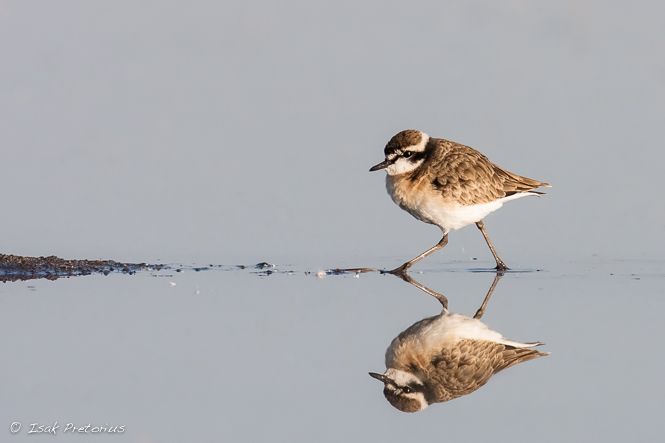 Canon 1D Mark II N | Canon 600mmf/4 + 1.4x | 1/2000 sec at f/8, ISO 640
Here are a few other tips for creating stunning images of shorebirds:
1) Wait for the bird to do something interesting. They often stretch their wings, or indicate that they will take to flight.
2) Early mornings are your best chance to have no wind and flat water when you want photos with no ripples in the water.
3) Only include the full reflection of a bird in the water in your photo when the water is clear and when you have a perfect reflection.
4) Try to isolate a single bird or group of birds from the rest. This will create a strong focal point in your photo.
5) Avoid having other birds in the background behind your subject. This might be difficult when there are many birds like is often the case along a shore, so choose your subject carefully.
6) Don't photograph birds facing away from you. It's best when the bird is tilted slightly towards you.
The best advice would be to have fun and be patient. Enjoy creating beautiful pieces of art!
Isak