The north of Kenya is wild country. Most of the popular tourism only extends as far north as Samburu National Park. From there the roads get tough, the land gets dry and you might run into some friendly or not-so-friendly tribes. These tribes still live very traditionally, off the land, and have to defend their land and culture from other hostile neighboring tribes.
I recently guided a photographic safari to the north of Kenya where we wanted to photograph this land from a different perspective. From a helicopter we were not only safe but we also got the required unique angle and a great appreciation of how the habitat changes from mountains to savanna bushveld and beautiful rivers. Much of that land also forms part of the Great Rift Valley and from the air it is a fascinating landscape with lakes, craters and streams of solidified lava from as little as ten thousand years ago. It is like seeing geological formation in action.
One morning after photographing the colorful pools of the Magado crater we headed north past the town of Archers Post. This town is known as the border between civilization and the wild country. We wanted to fly along the Usao Nyiro river which is a beautiful shallow river lined with palm trees and lots of birds. Just before we reached the river we saw a herd of buffalo moving towards the river through some thick green vegetation. Most of the buffaloes were almost white, probably from a recent mud bath in the patches of white mud, from sodium carbonate, that were visible in the area. This created a nice contrast to the green vegetation and a perfect opportunity to showcase this unique environment. Party cloudy skies, mountains, river, striking green vegetation with a herd of white buffaloes all contributed towards the scene. The execution was simple, I took out the wide angle lens and after making a few turns in the helicopter over the herd I got the shot.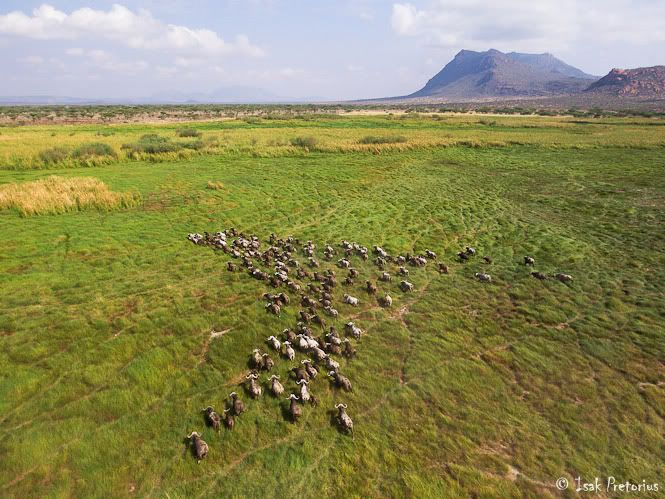 Canon 1D Mark IV | Canon 16-35mmf/2.8 | 1/400 sec at f/8, ISO 400