When you go to a place where there are abundant wildlife, water and sunshine mixed together, you are guaranteed to see something spectacular! The Okavango Delta is such a place, a pure wilderness and probably the most exciting game viewing destination in Southern Africa.
Canon 5D Mark II | 70-200mmf/2.8 | 1/1250 sec at f/5.6, ISO 400
C4 Images and Safaris have just concluded a very memorable photographic safari to the Okavango Delta at Stanley's Camp. The camp is situated in the heart of the swamps just below the South Eastern tip of Chiefs Island. They've had extremely good rainfall in the Okavango Delta during January and February. This resulted in unusually high levels of water on the floodplains for this time of the year. The water level was almost as high as when the flood waters push in from the Okavango river during July and August. This meant that we were in for an interesting time ahead! Just as at Chiefs Camp, Stanley's Camp uses game viewing vehicles specifically modified with bigger wheels and raised suspensions to negotiate the swampy terrain effortlessly. I've never seen so much water around and having water rush over the bonnet and over the floor of the vehicle provided an additional thrill for everyone!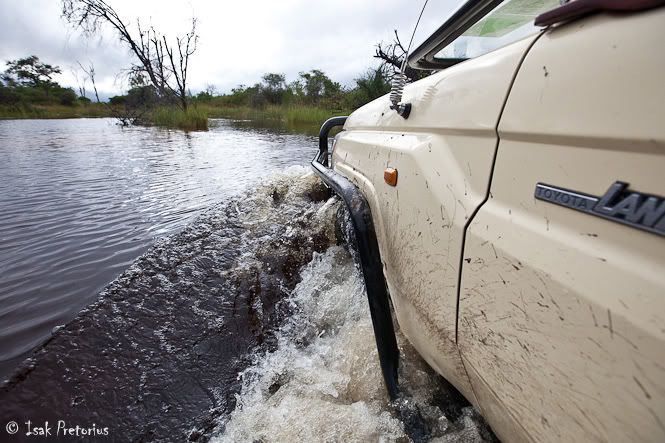 Canon 5D Mark II | 16-35mmf/2.8 | 1/3200 sec at f/5.6, ISO 800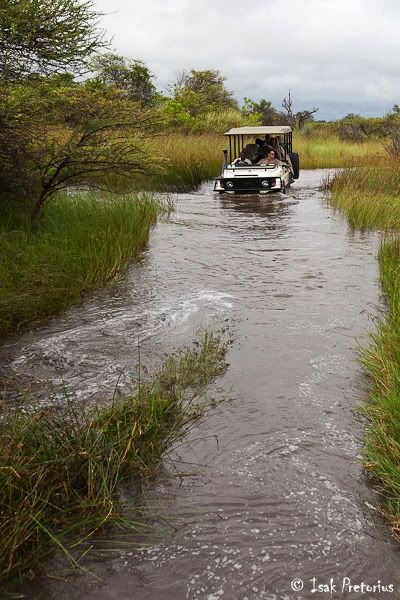 Canon 5D Mark II | 16-35mmf/2.8 | 1/2000 sec at f/5.6, ISO 800
The safari was led by Greg du Toit and myself. Drizzling and overcast weather on the first two days meant that we had a slow start to the safari. Luckily we were all serious photographers and this could not damped our spirits. In fact, we were excited to use the elements to our advantage, searching for unique photo opportunities of impala and wildebeest in the rain! We also enjoyed the dramatic skies for which the Okavango Delta is famous. On our second drive, a great sighting of a leopard that entertained us for an entire morning got the shutters working properly.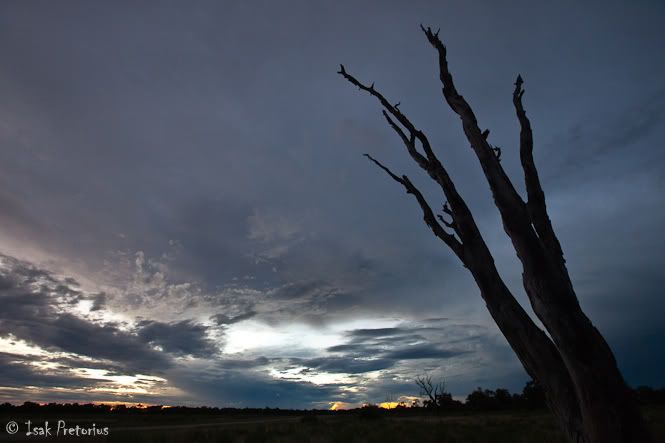 Canon 5D Mark II | 16-35mmf/2.8 | 1/30 sec at f/8, ISO 1000
Canon 5D Mark II | 600mmf/4 | 1/1600 sec at f/4, ISO 200
The next few games drives delivered sightings of elephant, buffalo, giraffe, and letchwe before we were treated to a once-in-a-lifetime sighting of a lion kill. We witnessed a pride of six lions killing a young zebra thanks to Greg du Toit who made the call to stick it out for an afternoon with the lions, watching them sleep, waking up, stalking, ambushing, and finally devouring. A complete cycle rarely seen, and of course stunning photographs by everyone! Oúr vehicle, on the other hand, stumbled onto a few wild dogs staking a herd of impala on our way to the lions. "Spoilt for choice" got a new meaning as we had to choose between following wild dogs on the hunt or lions stalking zebra. We decided to follow the wild dogs for a while but when the call came over the radio that the lions had killed a zebra we quickly rushed to witness the action.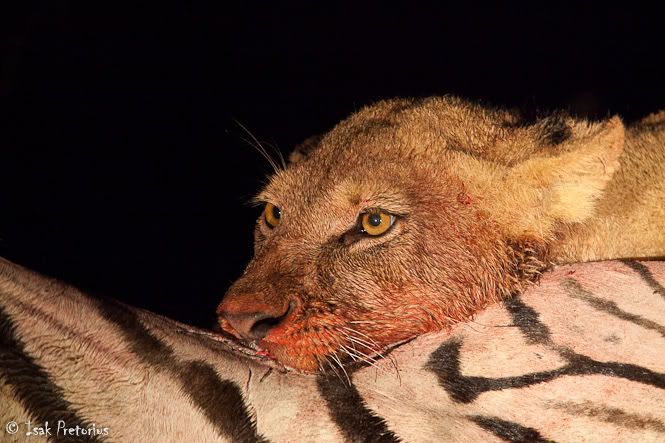 Canon 5D Mark II | 300mmf/4 + 1.4tc | 1/125 sec at f/5.6, ISO 1600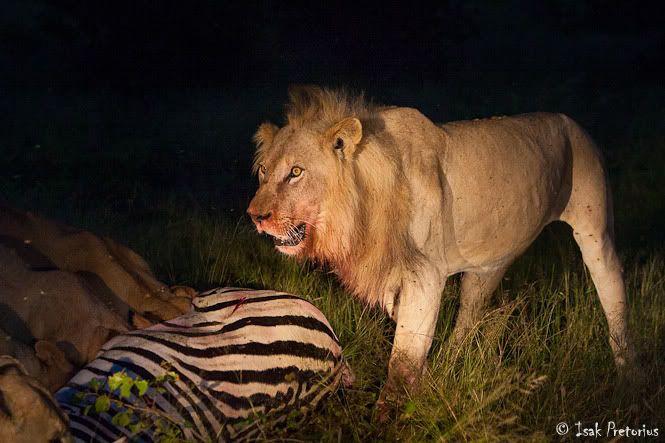 Canon 1D Mark III | 70-200mmf/2.8 | 1/200 sec at f/4, ISO 1600
Another memorable sighting we had on our way back to camp one evening was of a spotted hyena walking in the road and in the swampy water looking for a meal. With the dark water at night and subject illuminated only by the spotlight, this made for some dramatic images. During our final game drive of the safari we were luckily to find a big male leopard crossing one of the water channels. I was interesting to see how he very slowly and carefully made his way through the water trying not to make a sound! This is a sight that you'd only find in the Okavango Delta and it ended our safari on a high.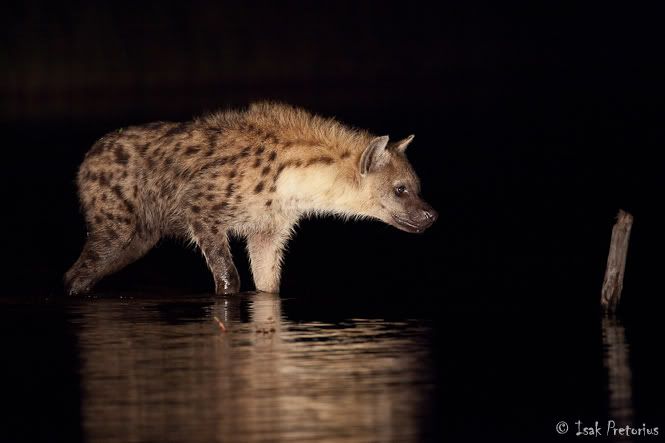 Canon 5D Mark II | 600mmf/4 | 1/80 sec at f/4, ISO 2000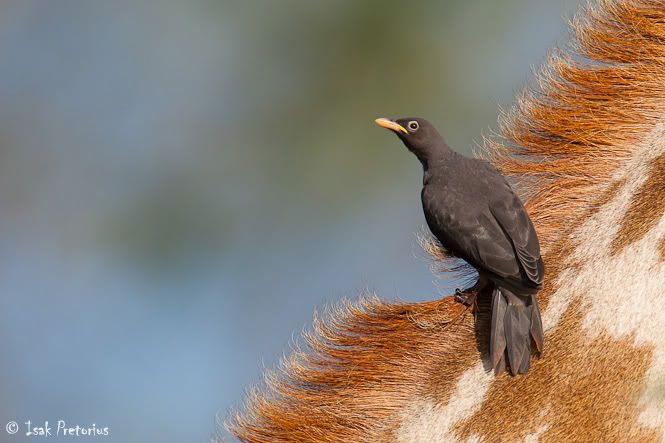 Juvenile red-billed oxpecker
Canon 1D Mark III | 600mmf/4 + 1.4tc | 1/2500 sec at f/8, ISO 800
The Okavango Delta is of course also a bird paradise. With most of our guests being keen bird photographers it meant that everyone were in their element! Fish Eagles around every corner, Grey-headed and Striped Kingfisher, Saddle-billed Storks, Wattled Cranes and Dwarf Bittern were a few of the species that got us really excited.
Canon 1D Mark III | 300mmf/4 + 1.4tc | 1/1000 sec at f/7.1, ISO 1250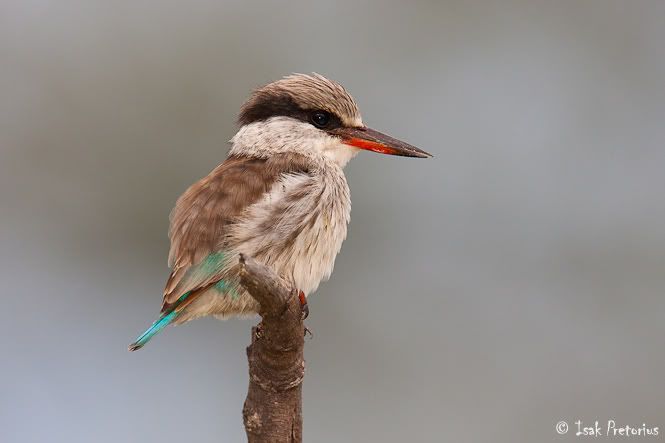 Canon 1D Mark III | 600mmf/4 + 1.4tc | 1/500 sec at f/8, ISO 1600
When hosting a photographic safari it is important to go to a camp that can take care of our clients, making them feel at home and relaxed after a hard day of photography out in the African bush. Stanley's Camp is exactly such a camp! It is a very intimate camp gathered around a large sitting and dining area which offers great views over the Okavango Delta floodplains and one of the best camps I've ever been to. Apart from the filter coffee wake-up call, the friendly staff and exquisite food prepared by chef Harry is what made the camp extra special. The camp also offers an elephant interaction experience, mokoro excursions, and guided walks if you want to try something different.
Canon 5D Mark II | 300mmf/4 | 1/800 sec at f/4, ISO 200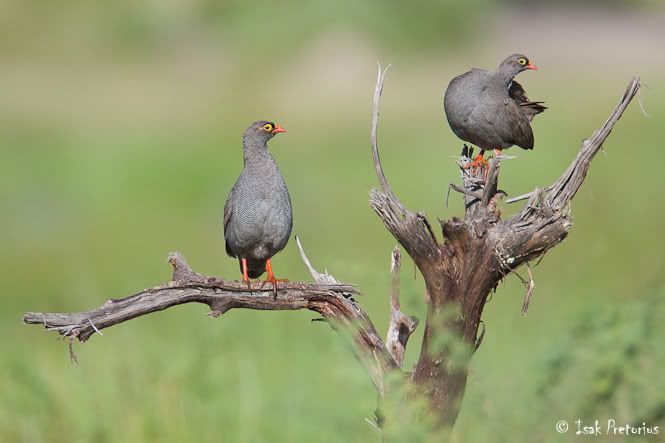 Canon 1D Mark III | 600mmf/4 + 1.4tc | 1/2000 sec at f/5.6, ISO 400
Unfortunately all good things had to come to an end. We were sad to leave but enjoyed the last breath-taking views from the Okavango Delta as we flew back from the camp to Maun where we all went our separate ways. A big thanks to Evelyn, Harry, Jonathan, Carter, and the rest of the staff at Stanley's camp for making it a trip of a lifetime!
Canon 5D Mark II | 70-200mmf/2.8 | 1/320 sec at f/8, ISO 800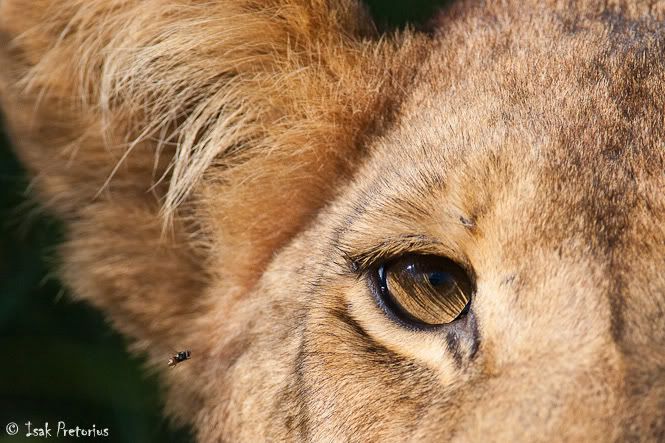 Canon 1D Mark III | 600mmf/4 + 1.4tc | 1/2500 sec at f/8, ISO 800