It was with great excitement that we trekked north on our annual pilgrimage to C4's first Mashatu workshop for the year. Meeting all our guests at the Alldays coffee shop on our way to the camp has become an institution for those participating. It was great to see all the excited faces, mostly friends who have done trips with us before, but also some new faces that would soon become part of the C4 family. We confirmed that the weather forecast looked great for the next few days as we headed for the border into Botswana and the start of our five-day Mashatu photo workshop.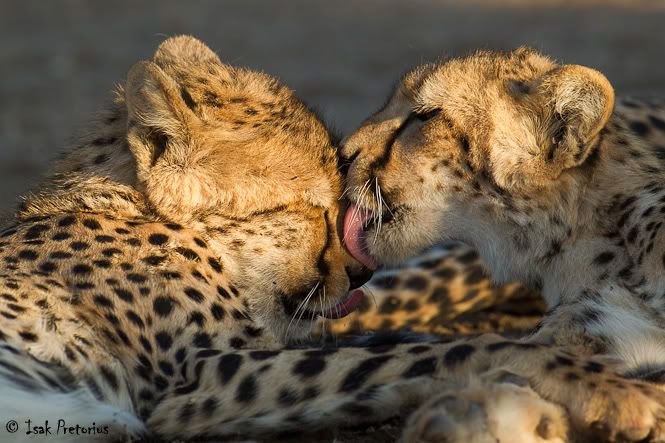 Mashatu Game Reserve, Botswana
Canon 1D Mark IV | 600mmf/4 | 1/640sec at f/5.6, ISO 400
Mashatu Tent Camp is a lovely small camp nestled in a forest that makes you feel closer to nature and would be our home for the five day trip. It offers all the necessities and luxuries for a photographic weekend with wonderfully friendly helpful staff. Mike Dexter met us at the border. He is C4's hide expert and is permanently stationed at Mashatu. As a well-respected guide and photographer in his own right he was going to be my fellow host for this weekend.
I was telling the guests all about Margaret's famous lemon meringue pie at Mashatu Tent Camp that is considered to be the best in the world. With great disappointment we learned that it would only be served during Sunday high tea, which we would miss. We persuaded the kitchen staff to switch Saturday and Sunday menu's around to experience this decadent delight and in the end I was happy that everyone agreed... the best lemon meringue pie in the world!
Mashatu Game Reserve, Botswana
Canon 1D Mark II N | 600mmf/4 | 1/1000sec at f/4, ISO 200
After settling into our new home we got together for high tea and set off on our first drive. A call came about a cheetah with five cubs. Seeing a cheetah with such a big litter of cubs is quite rare. We've had a cheetah with six cubs in the Masai Mara in Kenya before, and I've heard of someone seeing a cheetah with seven cubs once, but this is extraordinary for Mashatu and we raced to the sighting with great anticipation. We were not disappointed and found them all in great late afternoon light. Shutters were clicking furiously and it was a fantastic way to start the workshop.
The next morning we stumbled upon two lionesses on a fresh zebra kill not far from camp. Everyone was enjoying the early morning photography. While sitting at the lion kill, at one stage I turned around facing the back of the vehicle to help a guest with camera settings. Suddenly, in a moment of disbelief I saw a wild dog out of the corner of my eye. I immediately stopped talking out of pure shock! A pack of wild dogs were trotting on the road where we came from and also stumbled onto the lions. The one lioness immediately got that expression of intense focus on her face, stood up and started chasing the wild dogs. They all moved at an incredible speed. Luckily the lioness did not have any other intentions except for chasing the dogs away from their kill and thus gave up the chase quickly. We followed the wild dogs over very rough terrain and were amazed at the speed and stamina they had trying to move out of the lions' reach.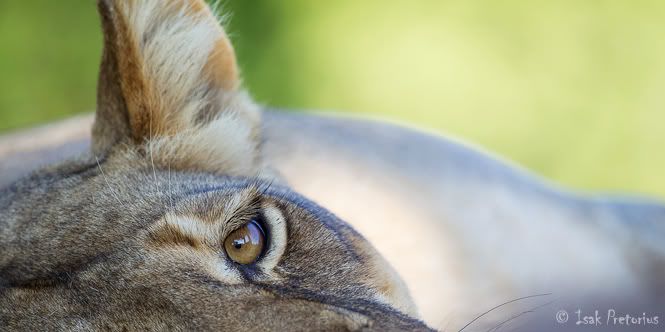 Mashatu Game Reserve, Botswana
Canon 1D Mark IV | 600mmf/4 | 1/640sec at f/4, ISO 400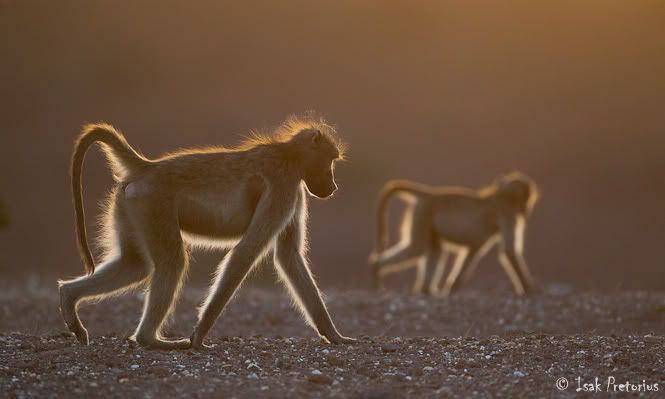 Mashatu Game Reserve, Botswana
Canon 1D Mark II N | 600mmf/4 | 1/1250sec at f/4, ISO 1250
The afternoon was spent photographing general game and a big herd of breeding elephants in the last light of day. Some of the baby elephants were very entertaining and one young brave baby came to smell our vehicle, but he shook his head in disgust as his trunk touched the metal bar on the side of the vehicle. We had planned to do star trials that night but our plan was interrupted by the sighting of a leopard cub and his mother playing and drinking water on our way back to camp. The guests were not much disappointed for missing the star trail that evening and luckily the forecast was for clear skies for the next evening as well.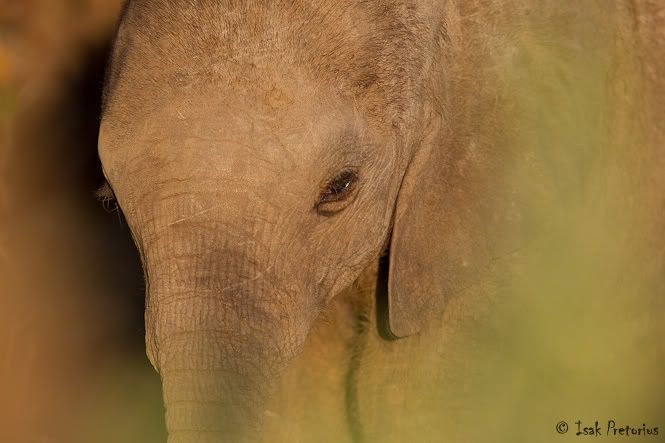 Mashatu Game Reserve, Botswana
Canon 1D Mark IV | 600mmf/4 | 1/640sec at f/5.6, ISO 200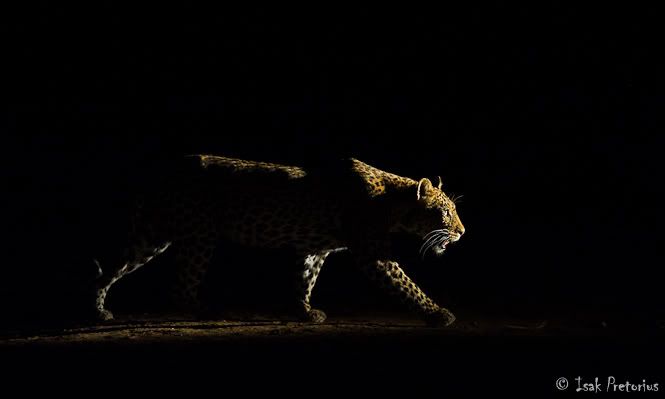 Mashatu Game Reserve, Botswana
Nikon D3s | 200-400mmf/4 | 1/200sec at f/4, ISO 6400
When I arrived at Mashatu, Mike had been telling me about the great sightings at the elephant hide and showing me some of the pictures he's taken from within the hide. I was bursting with excitement to go to the hide. We organized with him to go to the hide during the next two morning game drives. The elephant hide was recently completed by C4 in the middle of the reserve at a place called 'Moddergat', close to the Mujali river. The hide is sunk into the ground next to a waterhole with two small openings, giving you an eye level view of the waterhole. The perspective is amazing. To see the animals from that angle creates a whole new dimension to wildlife photography. It looks spectacular - even the usually dull-looking turtle doves and grey go-away birds looks great from this new perspective when they come down to drink.
Mashatu Game Reserve, Botswana
Canon 1D Mark IV | 600mmf/4 + 1.4x | 1/1000sec at f/4, ISO 800
Mashatu Game Reserve, Botswana
Canon 1D Mark IV | 600mmf/4 | 1/640sec at f/5.6, ISO 400
Both sessions we had in the hide were fantastic. Shutters were firing away furiously as we were entertained by all kinds of birds coming to drink, impala, warthog, elephants and even a leopard tortoise that we saw approaching from a distance. When a 25 strong breeding herd of elephants arrived it was breathtaking. They surrounded the waterhole and it felt as if you became part of the herd. Looking up at these majestic creates from ground level, standing meters away from you, was a surreal but humbling experience - one of my ultimate bush experiences ever. The photographic experience was overwhelming and when the herd left we were all shaking from adrenaline and excitement. I can now envisage all the potential photographs from this hide and wish I could stay there forever to capture all those shots. C4 has definitely hit a home run with this hide and the other three that are near completion.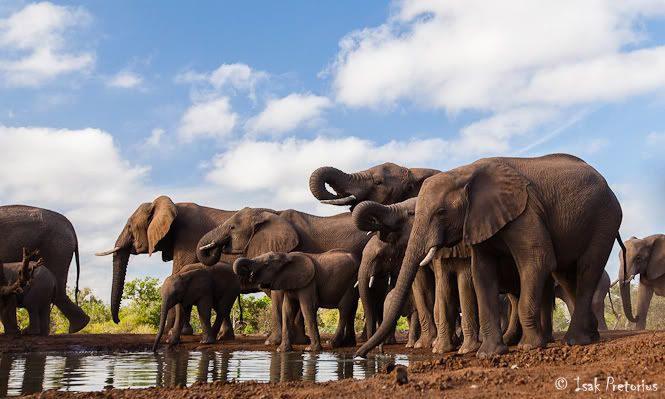 Mashatu Game Reserve, Botswana
Canon 5D Mark II | 16-35mmf/2.8 | 1/100sec at f/8, ISO 400
Mashatu Game Reserve, Botswana
Canon 5D Mark II | 16-35mmf/2.8 | 1/500sec at f/5.6, ISO 800
The rest of the drives on our workshop seemed average in comparison to what we experienced at the hide but they were spectacular in their own right. Lots of leopards, including the three cubs that we had seen during our August workshop seven months ago and that are amazingly all still alive, two young male lions, breeding herds of elephants and all of the general game.
The format of our workshop weekend includes morning and evening game drives, tuition and advice on the vehicles, and photography instruction in the day between game drives. Definitely hard work that everyone is very keen for and just can't get enough of! Since all our guests are experienced photographers, most of whom have travelled with us before, our curriculum for the weekend included flash photography for wildlife, a demonstration and discussion on Lightroom and the changes in the new version 4, and image reviews. I was blown away by the quality of the images from our guests, once again confirming what a magical place Mashatu is and the quality and diversity it offers the wildlife photographer. Thanks Jake, Justice, Commando, Ona, Congo and the staff at Mashatu tent amp for an unforgettable experience.